The Advanced Woman Calendar Is More Than Just A Fertility Period Calculator
Home »

Articles »
The Advanced Woman Calendar Is More Than Just A Fertility Period Calculator
Most often, the inability by couples to have a baby is due only to a bad timing, and not from infertility problems. Instead of getting depressed or anxious, and immediately scheduling a hospital visit, aspiring mothers-to-be can simply use a women fertility period calculator as helpful tool to increase the chances of getting pregnant. The truth is that by knowing the period of ovulation based on a woman's menstrual cycle, couples can plan ahead and schedule activities that will coincide with specific days when a woman is most fertile. Unfortunately, the menstrual cycle, and therefore the period of ovulation of a woman is unique from one female to the next.
With the help of a software called the Advanced Woman Calendar, all this scheduling and monitoring becomes easy and accessible right in the screen of your computer. By downloading this affordable software from http://www.eovulation.com, you instantly get a user-friendly fertility days calculator that will show you the specific days of every month when you are most fertile and likely to conceive. The software provides you different views of the calendar and helps you predict your monthly period so you can accurately plan your activities to achieve your goal, whether it is to conceive a baby of a specific gender or to space children naturally. The Advanced Woman Calendar is probably the best fertility and ovulation calculator you can directly download and instantly use for free on a trial basis.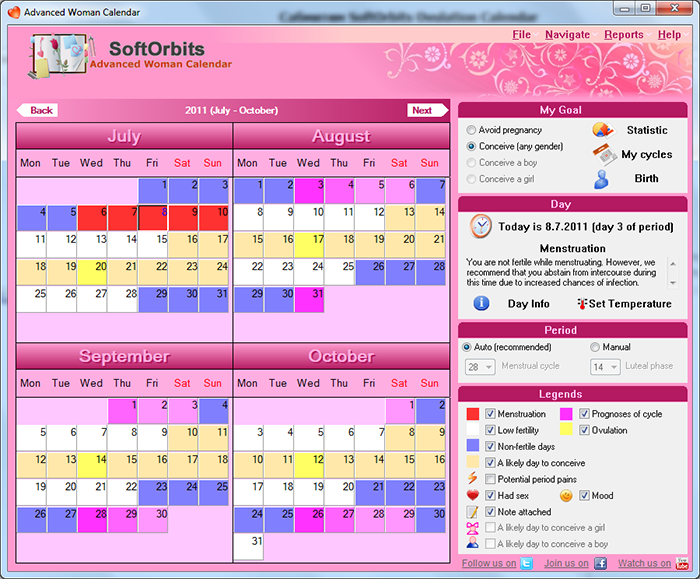 By going to http://www.eovulation.com, you can know more about the Advanced Woman Calendar and get an idea of how practical it is to get one for yourself. Not only can it help you facilitate a planned pregnancy, it can also be an interactive fertility calculator for safe period. Experts agree that the natural method of birth control provides no risk compared to other methods, aside from being acceptable to many people of certain cultural views. The Advanced Woman Calendar software comes with an unconditional 30-day money back guarantee, so people can get back their money should they opt not to continue to use it.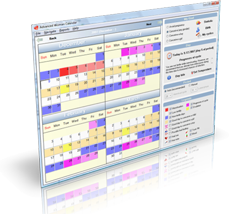 Download Advanced Woman Calendar and Create Your Personal Fertility Calendar!
Buy NowDownload