Family Planning the Best Way with Woman's Advanced Calendar
Home »

Articles »
Family Planning the Best Way with Woman's Advanced Calendar
If you want to know when you can or cannot get pregnant, the easiest way to do so is with the help of an ovulation calendar. Ovulation is the period during a woman's menstrual cycle when she is most likely to get pregnant as this is the time when the sperm and egg can be fertilized (Crosta, 2009). What an ovulation calendar does is help predict and record when a female will become pregnant. In line with this, that is why it is essential that a most accurate ovulation calculator app like Woman's Advanced Calendar is used.
Woman's Advanced Calendar is a precise and easy ovulation time calculator that tracks your menstrual cycle in the most accurate way possible whether or not your menstruation is regular or irregular. This app brings the safest, most effective, and most natural form of birth control into a new light by calculating your safe days and potential fertile days for you. It is the perfect software for couples who want to have a baby and those that want to safely control the number of children they have in their family without having to use pills. All you have to do is input the days of your most previous menstrual cycles and Woman's Advanced Calendar will present you with a neat, color coded chart showing your safe days and possible fertile days.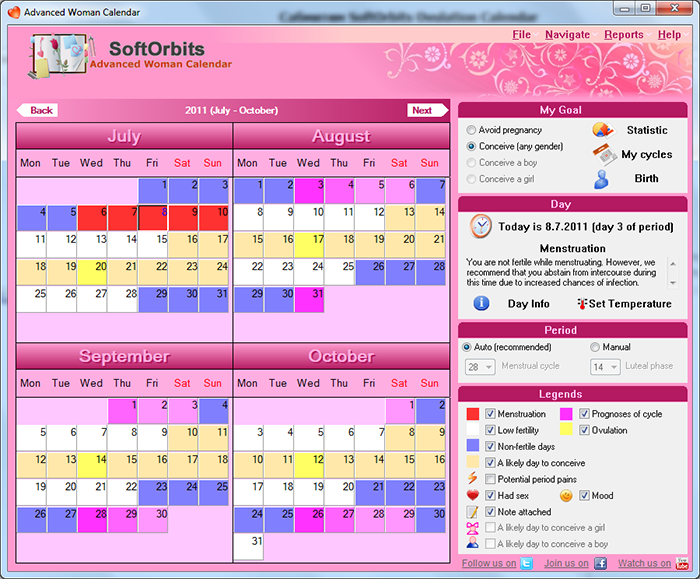 Aside from calculating your ovulation, additional features include help on planning for a boy or girl, premenstrual syndrome tracker, basal body temperature charter, desktop wallpaper, password-protected profiles, and even more. Since your satisfaction is of the greatest priority, you can get your money back within 30 days of purchase if you are not fully satisfied. Woman's Advanced Calendar website eovulation.com even offers a free ovulation calendar online. So what are you waiting for? When faced with the question, "What should my ovulation day calculator be?" The best answer to this is SoftOrbit's Woman's Advanced Calendar! So download the best ovulation calendar now, Woman's Advanced Calendar!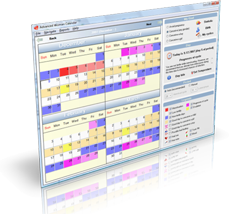 Download Advanced Woman Calendar and Create Your Personal Fertility Calendar!
Buy NowDownload