Importance of Menstrual Cycle Calculator
Home »

Articles »
Importance of Menstrual Cycle Calculator
Women often encounter difficulties in monitoring their menstrual cycle. It is either because they are too busy to be observing their monthly period or simply because their menstrual cycle is irregular. Monitoring menstrual cycle is every woman's responsibility, but doing it should be convenient and not a burden. The Advanced Women Calendar is just about the wonderful solution to women's concerns about their menstrual cycle.
The Advanced Women Calendar
In most cases, fertile days and safe days are easy to determine for women with regular cycles, but for women with irregular menstrual cycles, calculation would be difficult. Nonetheless, the Advanced Women Calendar has been developed for all women who find it necessary to observe their menstrual cycle. It includes a monthly menstrual cycle calculator app which accurately calculates a woman's menstrual cycle. Also, it has an average menstrual cycle length calculator which determines the usual number of days a menstrual cycle has. Another important feature of the Advanced Woman Calendar is its next menstrual cycle calculator. Women may want to prepare for their next menstrual cycle to avoid disrupting their scheduled activities for the following month. All these can be done in the PC, laptops, or smart phones for convenience.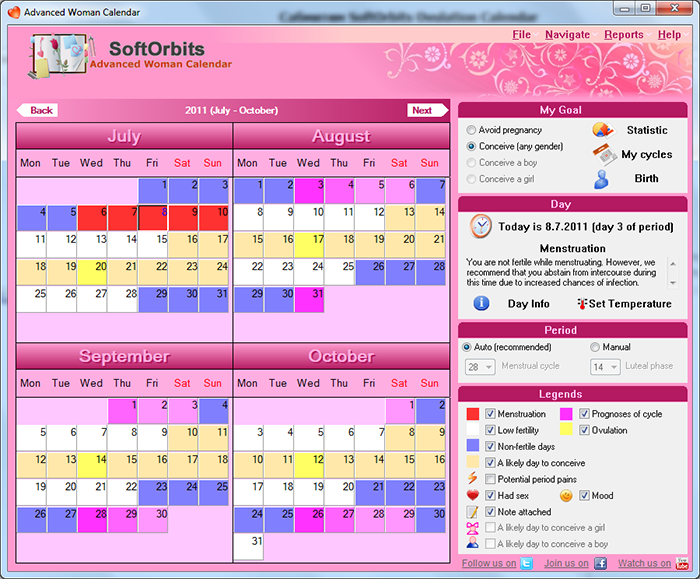 Women who want to know their fertile days and safe days are advised to use the Advanced Woman Calendar. By calculating the monthly menstrual cycle, average menstrual cycle, and next menstrual cycle, women can determine when they can successfully conceive. Surprisingly, husbands find this important as they would know when their wives would be experiencing mood swings because of pre-menstrual syndrome. This is also helpful if in case women are worried about having abnormalities in the ovaries because of irregular menstrual cycle. Indeed, the Advanced Women Calendar does not only serve as a monitoring device, but also a prevention device.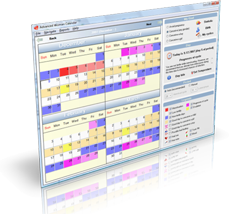 Download Advanced Woman Calendar and Create Your Personal Fertility Calendar!
Buy NowDownload