Advanced Woman Calendar: The Best Menstrual Calendar & Calculator
Home »

Articles »
Advanced Woman Calendar: The Best Menstrual Calendar & Calculator
A lot of women are not aware of the convenience and advantages of having a calendar for menstrual cycle. Besides, a lot can surely anticipate when they will have their menstruation days ahead by counting their cycles. But a lot of factors can cause irregular cycles to happen. Women who also ideally want a natural method of birth control can rely on these menstrual calendars. What are other advantages of a menstrual calendar and calculator? Discover why you should have one.
Advantages of a Menstrual Calendar
A menstrual calendar can help women point out their most fertile and least fertile dates. This means that they can naturally plan when they want to conceive. Those who are facing infertility problems will find that women menstrual and fertility calendar can help them overcome their failure to conceive. Menstrual calendars are highly recommended by OB/GYNs as a first recourse to those who are having difficulty getting pregnant. They are also a way for couples who are not ready to conceive, to know their safe days and to avoid unwanted pregnancies. By using this calendar, couples no longer have to face countless disappointments and failures that may lead to relationship problems.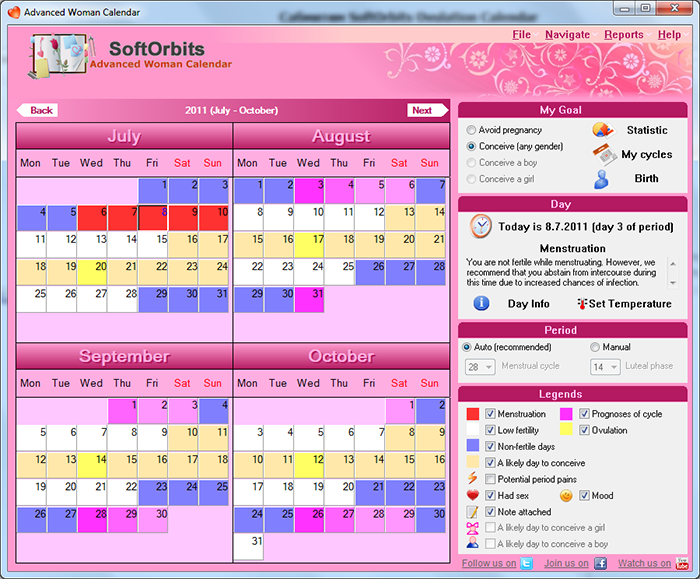 What is Advaned Woman Calendar?
Advaned Woman Calendar is a type of software that can be installed on the laptop, PC and other gadgets. A printable menstrual calendar app download is also available for women to monitor their cycles anywhere they want to. Advaned Woman Calendar is the best menstrual calendar calculator available today. It is easy to use and customer support is offered to those who need constant guidance from the makers of the software. It also has a clear interface that makes it easy for couples to read their calendars and note their safe days and their fertile days. Advaned Woman Calendar has changed a lot of people's lives for the better.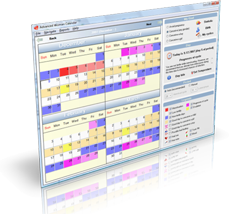 Download Advanced Woman Calendar and Create Your Personal Fertility Calendar!
Buy NowDownload