Advanced Woman Calculator
Home »

Articles »
Advanced Woman Calculator
The latest version of the Advanced Woman Calculator is out! Gone are the days of guessing about the ovulation cycle and its fertile or safe days, whether for women who want to stay safe or for those who are already planning to have a baby. The Advanced Woman Calculator continues to be a woman's (and her man's) best friend. Version 5.1 was released on March 20, 2013 by award-winning software developer SoftOrbits.
How It Works
This software is a must-have tool for anyone who is interested in pregnancy, parenting and ovulation. Simple to download and install, the Advanced Woman Calculator is an ovulation calculator three months periods. The program accurately determines your ovulation cycle in varying degrees of fertility according to your previous menstrual cycle or cycles. Being a 3-month ovulation calculator, it can predict your fertility dates with even more precision to make it easy for you to plan your safe days as well as your best days to try to conceive a baby. Your results are displayed in color-coded charts for simple reading and useful information.
Extra Features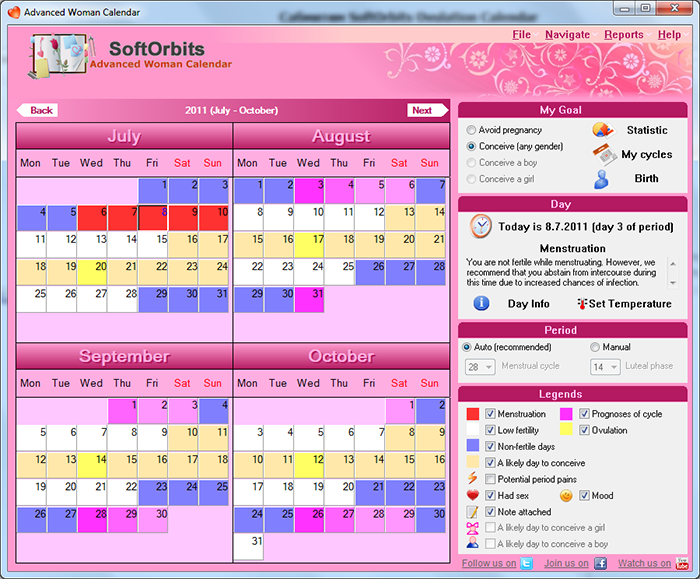 The Advanced Woman Calculator features password-protected profiles for privacy among several users, or on the other hand, you can set it as a live desktop background with daily notes, alerts and reminders, just so you don't forget! And aside from being an accurate ovulation calculator for 3 months history, it can even help you plan for a boy or a girl!
The Advanced Woman Calculator is also capable of tracking premenstrual syndrome and charting basal body temperature during the cycle. It even instantly determines the target birth date of your planned baby.
As if these features were not already everything anyone could ask of it and more, the Advanced Woman Calculator also has a simplified online version you can use at any time at http://www.eovulation.com/ovulation-calendar-online/
SoftOrbits is also so confident of their product that they offer a no-questions money back guarantee for 30 days – already long enough to know if it worked!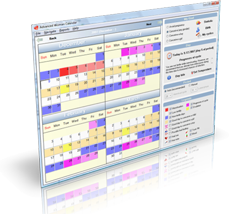 Download Advanced Woman Calendar and Create Your Personal Fertility Calendar!
Buy NowDownload