Tracking Your Ovulation Calendar
Home »

Articles »
Tracking Your Ovulation Calendar
Whether you are sexually active or trying to get pregnant, it's important to track your period and know the difference between your fertile and safe days. This is an easy task for women with regular periods but a bit more difficult for those with irregular schedules. The answer to the question, how to track your ovulation is much more complicated for women with irregular periods.
Thankfully there's a software called Advanced Woman Calendar. This handy downloadable program shows you how to track ovulation, letting you know your most fertile days or the safest days to have sex. Knowing your fertile days is handy for couples trying to get pregnant and can complement any of the lifestyle changes you're making to conceive. The program also determines the best days for having a baby of a certain sex. This is a helpful feature for parents having their second or third child and would like for it to be a specific gender.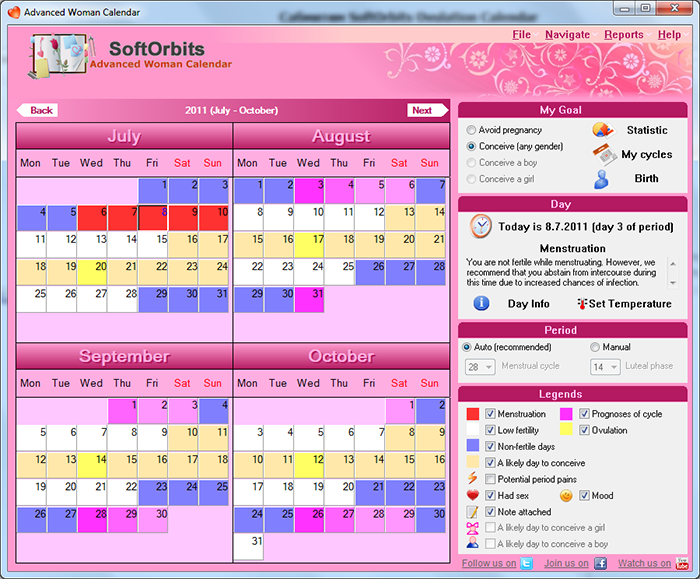 Apart from assisting in conception, Advanced Woman Calendar also processes the ovulation calendar for practitioners of safe sex. If you prefer the natural method and can't afford the pill or can't use a condom, then the tracking ovulation calendar on Advanced Woman Calendar will determine from your period schedule the bbest days to have sex.
Advanced Woman Calendar works by predicting your ovulation days, calculating safe and fertile days, and assessing your fertility calendar according to the previous menstrual cycle. The program is readily accessible from your laptop or PC and can be printed out for easy reference. Profiles are password protected to assure you and other users of privacy, along with alerts or reminders for the designated days you're after. The Advanced Woman Calendar also notes your body's basal temperature as well as premenstrual syndrome. All these handy reminders and calculations will result in a healthy baby or a healthy sex life.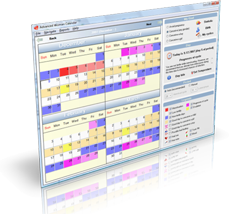 Download Advanced Woman Calendar and Create Your Personal Fertility Calendar!
Buy NowDownload