Why Get an Ovulation Tracking Calendar
Home »

Articles »
Why Get an Ovulation Tracking Calendar
For women with irregular periods, it can be difficult tracking the safe and fertile days during ovulation. Women trying to get pregnant will need an ovulation tracker app that will determine which days are their most fertile from the schedule of your menstrual cycles. For those that prefer the natural method of safe sex, you will have to schedule specifically which days aren't fertile and you are clear from a pregnancy risk. The Advanced Woman Calendar calculates all these days. With one click of a button, you can download the program and find out from your erratic period schedule when you are in the clear or most likely to conceive after sex.
Advanced Woman Calendar uses an ovulation tracking calendar from the days you get your period and the day it ends based on the span of a few months. From the difference of days, a personal fertility calendar is calculated according to your menstrual cycle. It also predicts your ovulations days and lets you know via a color coded ovulation chart. This chart clearly indicates both your safe and fertile days; so whatever your purpose for getting this ovulation and period tracker, the function works both ways.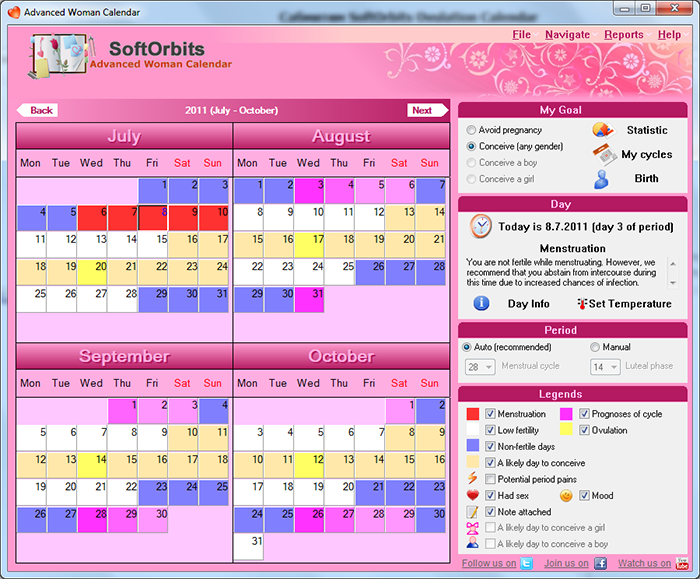 By having a track ovulation and periods, you need not worry about not conceiving that child within your designated period. Advanced Woman Calendar even includes the best days for either conceiving a boy or a girl. Depending on your choice, lifestyle, and belief, this program assures you of safety and results. To make sure that you are right on track, Advanced Woman Calendar also charts your basal body temperature, monitors premenstrual syndrome, and lets you print a copy or keep the ovulation calendar as a PC wallpaper. All profiles are password protected, assuring you of privacy in case of someone using your PC or laptop.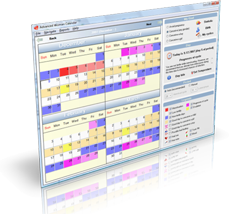 Download Advanced Woman Calendar and Create Your Personal Fertility Calendar!
Buy NowDownload