Advanced Woman Calendar: Baby Planning at Its Best!
Home »

Articles »
Advanced Woman Calendar: Baby Planning at Its Best!
Babies. The mere thought of having one sends giggles all over your body. They're cute, they're cuddly, and they'll make you go crazy. Perhaps you've been wanting to have one for the longest time. You've tried "counting days" in order to make sure that you don't miss out on your ovulation and fertile periods. But if you aren't one of the women who have a regular 28-day cycle, determining your ovulation day might be an exasperating task due to continuous inaccurate results. This shouldn't be a reason to quit trying. Sometimes, what is natural just needs a little bit of help from technology.
Advanced Woman Calendar will help you find a solution to your baby-making woes. It is a precise and accurate ovulation calendar calculator that tells you what day it is best to conceive your little bundle of joy. This ovulation calendar and pregnancy calculator provides a quick, easy, and not to mention fun and cute way to predict your most fertile days. This is also the most natural way of trying to conceive – you will not need help from hormone pills or other artificial methods. With the Advanced Woman Calendar, you have a higher chance of getting pregnant as it does a great job of tracking your period for you. And as an added bonus, it can also help you determine which days you are most likely to conceive a boy or a girl.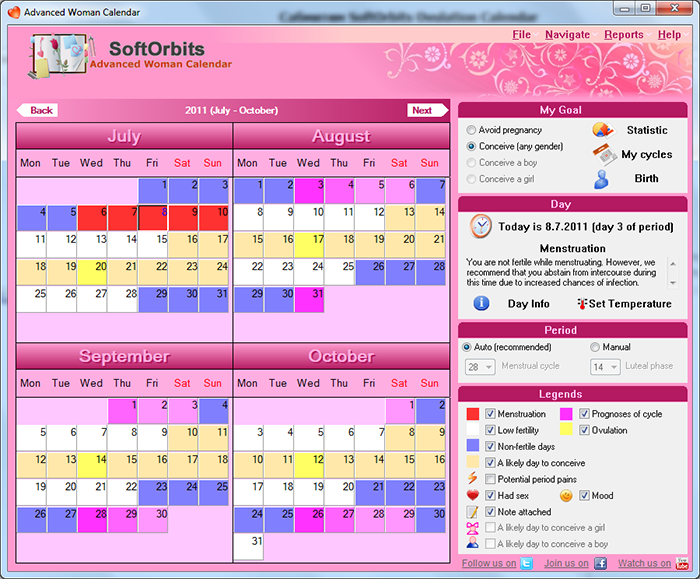 Not sure if you're ready to have a baby yet? The Advanced Woman Calendar can also be used as a birth control method. This ovulation calendar and calculator will pinpoint your "safe days," so that you can have your baby at the time when you are most ready to give him your love and attention. You can even print out the color-coded ovulation chart so that you can bring this tool with you wherever you go.
So why not try it out? The Advanced Woman Calendar's primary goal is your satisfaction. Whether you want to conceive or are simply looking for a natural birth control method, this is definitely the product for you.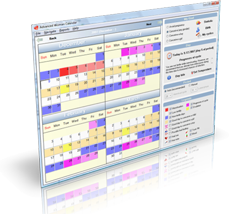 Download Advanced Woman Calendar and Create Your Personal Fertility Calendar!
Buy NowDownload