Benefits of Having a Menstruation Calendar Software
Home »

Articles »
Benefits of Having a Menstruation Calendar Software
Women with irregularly scheduled periods have a hard time tracking their next move. Whether they would like to know their most fertile days, the safest days after ovulation, or simply when to expect the next period, it is important to have a calendar in hand to anticipate certain events. But irregular cycles can be tricky. Thankfully there's a menstruation calendar software like Advanced Woman Calendar. With this handy program, you can track both your ovulation period and the safe days for natural birth control.
Advanced Woman Calendar works by computing these days through your menstrual period calendar. Unlike regular periods that only need you to add 14 days from your first day to estimate the ovulation time, an irregularly scheduled period would have a different computation. But you don't need to go through a challenging equation to figure this out. Just input the days of your menstrual cycle and the program will do the work for you.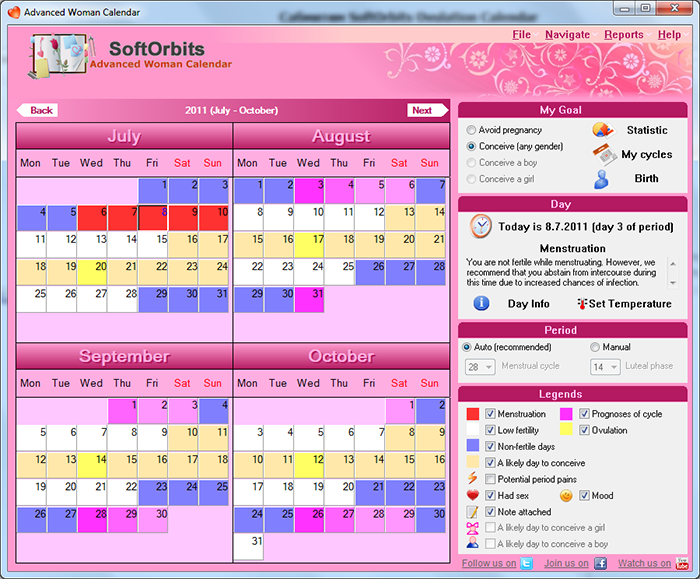 Advanced Woman Calendar doesn't just compute for the days you're after. Once the results are out, the program provides a printable menstruation and ovulation calendar. You can place this in your bathroom or bedroom to know what days to anticipate and plan for. All you have to do is download menstrual calendar app.
Safe days are another priority for the Advanced Woman Calendar. If you don't prefer using artificial birth control methods, then the program will determine from the menstrual cycle when is the safest days to have sex. No need to worry about missed periods in the future. Instead you get to enjoy the kind of life you and your partner are after.
The convenience of having the Advanced Woman Calendar is a great plus for future mothers, wives, partners, or any woman that wants control of her life. Visit their website today to know more about this handy program.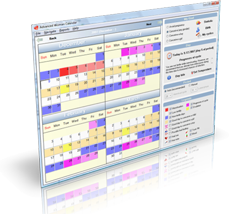 Download Advanced Woman Calendar and Create Your Personal Fertility Calendar!
Buy NowDownload