A Safe Period Calculator That Will Not Leave You Guessing
Home »

Articles »
The Advanced Woman Calendar: A Safe Period Calculator That Will Not Leave You Guessing
Starting a family or having another child is a very big decision. Couples would like to be prepared as much as possible. Sometimes, there are many things going on at once, and couples would like to prioritize one over another. However, this prioritization should not prevent or be a hindrance to a great relationship. Although there are many methods of birth control, the more effective methods also carry the greater risks. However, by knowing which days are safe or unsafe, women can be better prepared. With the Advanced Woman Calendar software, knowing one's safe period becomes certain and not left to chance. By going to http://eovulation.com, one can simply download safe period calculator software and start knowing these specific days.
Some couples prefer the natural method of birth control for safety and cultural reasons. The Advanced Woman Calendar at eOvulation.com is a women safe period calculator for natural birth control. After putting in certain information, such as the first day of the last menstrual period, the software will present to the user a color-coded fertility calendar that is easy to see and understand. Just as it can accurately show which days are safe, it can also guide couples to pick the days where the woman would most likely conceive should they decide to have a new member of the family.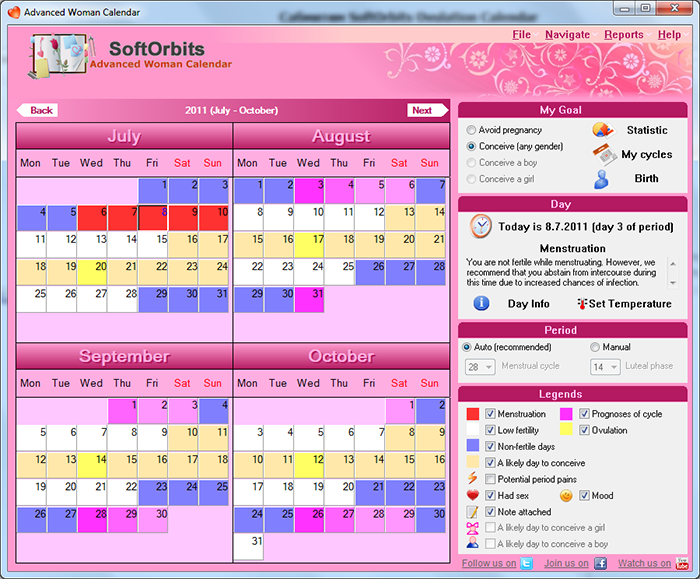 The Advanced Woman Calendar software is a great and affordable tool as a safe period calculator to avoid pregnancy. It can easily be downloaded from http://eovulation.com, so that the user can start using it immediately. For a small additional fee, your software can have a premium support and be included in all major update releases in the future. There will be a technical support to assist you with any questions about the software. It also includes an unconditional 30-day money back guarantee. SoftOrbits, the company that owns eOvulation and Advanced Woman Calendar software, will give your money back should you opt not to use the software.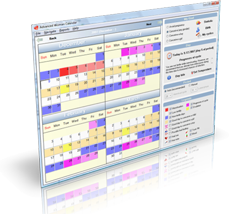 Download Advanced Woman Calendar and Create Your Personal Fertility Calendar!
Buy NowDownload