Advanced Woman Calendar
Home »

Articles »
Advanced Woman Calendar
Keeping track of one's ovulation with the use of a calendar is one of the easiest, most common ways of knowing when a woman is most or least fertile during the month. However, this can become confusing given that a woman's body can be very unpredictable and the pattern of ovulation may vary from time to time. Thankfully, a software has been developed to make the lives of women much easier!
Advanced Woman Calendar is a women period cycle calculator software program that analyzes the pattern of a woman's menstrual and ovulation cycle and calculates when a woman's most fertile days in a month will be. The software program features a monthly period cycle calendar in which the user can input the dates of her period and keep track of the patterns of her monthly periods. The sofware will then use this data for the period cycle length calculator, another feature of the software, which can help predict how many days the user's period will last in a given month.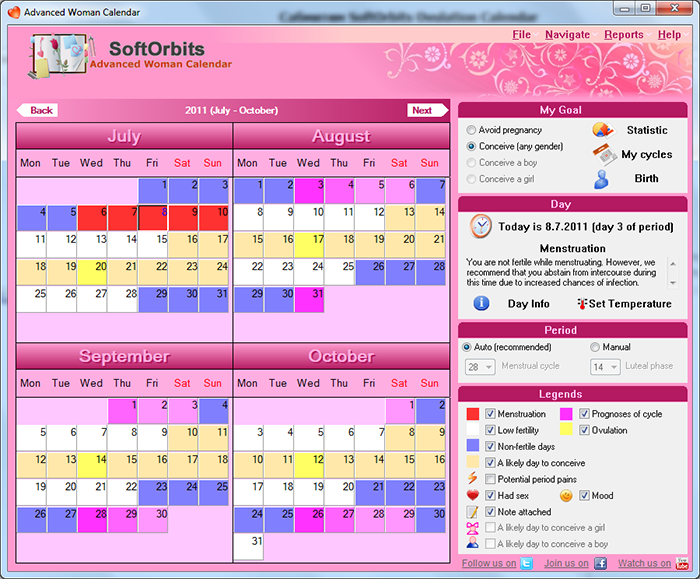 Advanced Woman Calendar is very beneficial for those women who want to get pregnant. With the help of Advanced Woman Calendar, a woman can know when the best days for conceiving a child will be. A woman can get pregnant in the best way--the natural way!
But this does not mean that Advanced Woman Calendar can only be used by women who want to get pregnant. Those who do not want to get pregnant will also find it beneficial! The program can calculate when it is most safe for women to have sex without the risk of getting pregnant. Advanced Woman Calendar promotes natural birth control. With the help of the software program, one does need to worry about regularly taking birth control pills or other contraceptive devices. Advanced Woman Calendar can help its users avoid pregnancy the natural way.
With Advanced Woman Calendar, women from all over the world can keep track of their monthly menstrual and ovulation cycles in the most convenient and effective way!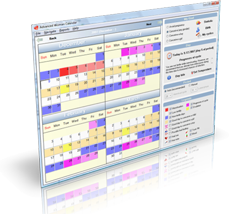 Download Advanced Woman Calendar and Create Your Personal Fertility Calendar!
Buy NowDownload